Frequently Asked Questions
Is my story interesting enough for a memoir?
Memoirs are not only for the rich and famous – any life story is worth recording for posterity and can inspire a unique manuscript to be handed down to future generations.
How often have you heard people say: "I wish I'd written down my grandparents' stories"? Your life experiences may not seem exceptional to you, but even the smallest details and everyday events can become an important part of your family history.
If people don't record these stories from their past now, many of them will be lost forever.
A memoir is like a written time capsule from the last century
Can I have something specific?
Some clients may wish to cover one episode of their story in greater depth, or to focus on one aspect of their life – certain experiences, their hobby, professional career, business or even a love story.
The schedule can always be adapted or extended. If you feel, after six meetings that you still need more interview time, this can always be accommodated, but of course a longer memoir will also be more expensive to print.
Can I write it myself?
If you have already started writing a memoir or have written a journal, I can help you to finish it. I can type your manuscript for you, or can take your story, proof-read and edit it, and then perhaps suggest ways that you could structure it, shorten it or develop it.
By acting as an objective reader, I can help with ideas for adding flavour or identifying a need for more details or clarification. I can also help you to arrange professional printing of your memoir or suggest an online or traditional publisher.
What will happen at the interviews?
Meetings are intended to be enjoyable and informal and will usually take place at your home or office, wherever you feel most at ease.
Each time we meet, I will record the discussion on a mini-recorder (dictaphone) and take brief notes by hand. Between each meeting, I will type up a draft of your story as it unfolds for you to check.
Can I make changes to the proof?
Of course! It is first and foremost your story – we want you to be happy with it!
After each meeting, you will have a printout of 'work in progress' which shows what has been included in the story so far and how it will be structured. This is the best time to make any major changes and let me know if we have missed out anything important from that section.
Once the various sections have been compiled into a 'book' format, you will be given the second draft. Further amendments will be charged on a time basis.
Is there anything I can't include?
I will help you to identify any obvious conflicts in your narrative and any potentially libelous areas.   Although you have the final say on what is included, we wouldn't want to seriously offend or upset others, or for you to regret writing it at a later stage. You must ensure as far as possible that the story you tell me is true and told in good faith.
What style will it be written in?
We will work together to ensure that the style of writing reflects your personality – it is your voice.
What will the finished book look like?
There are several alternatives for printing the book including hard-back bound.
A sample of a typical inner layout is shown here! (© Mandy Bloom, work in progress, June 2017)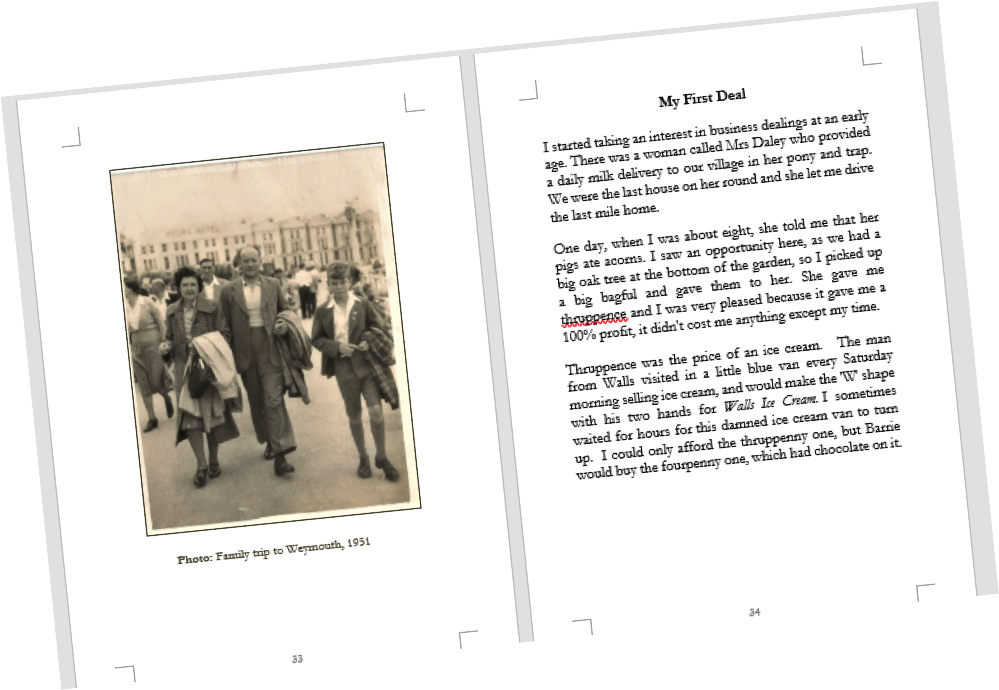 I also work closely with a local professional graphic designer Becky Sumpster of Design Somerset who can create your unique cover design (for an additional fee)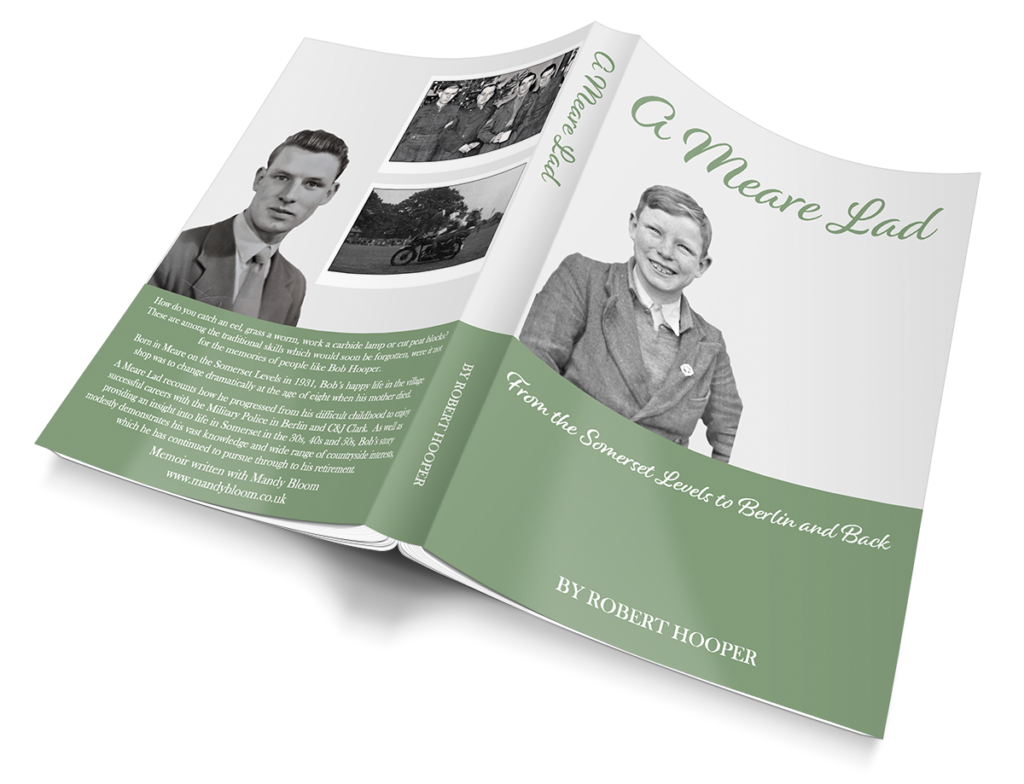 What if there are some things I don't want publicised?
This is your memoir, and the contents will only be revealed to other people by you, or when eventually published, with your written consent.
This is intended to be a personal project – the purpose is not necessarily to publish books to be distributed to bookshops or online, although there are websites where you can arrange this.
All discussions between us are strictly confidential, and if you wish to keep your finished memoir to yourself, that is entirely understandable and your decision.
How much will it cost?
Pay-Per-Visit Fees:
Each visit fee includes:
One 90-120 minute meeting/interview at your home or a venue of your choice (within reason!)
My time invested for transcribing, re-writing and editing the interview at home
Laying out your story and photographs into a working document to show how the finished book will look.
Selection and scanning of your photographs
Travel up to 25-mile return journey from Keinton Mandeville (additional mileage charged at 35p per mile)
If required, liaison with our designer to produce a design for a full colour cover (an additional fee is payable for the professional design; the liaison is included)
Liaison with the printers to ensure delivery of a quality publication
Inclusive Fee Per Visit – £200
Most clients are able to tell their life story in five visits – some require fewer, some more.
When are the payments due?
You will be invoiced after each interview and subsequent typing/editing have taken place. Payment for each session is due before the next meeting can proceed.
What happens if I don't finish the book?
Although we really hope this won't happen, we understand that the memoir process isn't everyone's cup of tea. In the event of cancellation of the project at any stage, you will only be invoiced for the meetings that have already taken place and the subsequent typing/writing time that I have invested/scheduled. (so, for example, if you cancel after the first interview you will be invoiced for £200) Whatever material we have produced at that stage will be yours to keep, in printed or electronic format.
What Are My Memories Worth?
They are – of course – priceless!
The project requires an investment from all of us – from you in terms of time and money, but also from me and the designer who will spend many hours ensuring your memories are best preserved for posterity.
Our fees are considerably cheaper than most other Memoir Writing services you will find on the internet and a bonus is that you are dealing with a local writer and designer who both live and work in your community.
We are able offer a very cost-effective, personalised, flexible and caring service.